Strategy And
Implementation
 1 – Referrals – We will develop a method whereby our existing contacts can refer our services to others, Also incorporate a means whereby your clients can benefit from the referral as well.
2 – Media advertising – We will identify the specific industry segments where we are experienced in and will have clients in.
3 – Direct marketing – Once identified industries which we can claim to be experienced. We will utilize the services of social media, yellow pages, expatriates.com etc to locate businesses within area that are part of these industries with the view to target them directly.
 4 – Web presence – The web is an excellent place to provide valuable information to clients about our services. If designed in the right way can also provide ongoing information to our clients on our website which will encourages them to visit the site frequently.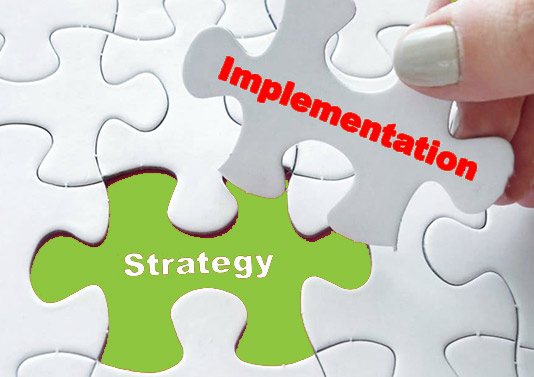 Implementation strategies are the actions taken to enhance adoption, implementation, and sustainability of evidence based interventions. … Implementation strategies are how we seek to get evidence based interventions into normal practice in clinical or community settings.
There are several factors that seem to have a major impact on an organization's ability to implement.
Commitment.

Ability and willingness to change.
An organizational structure that supports the strategy.
Ability to measure progress.
A clear understanding of priorities.
As a reminder, the 5 Key Success Factors are:
Strategic Focus (Leadership, Management, Planning)
People (Personnel, Staff, Learning, Development)
Operations (Processes, Work)
Marketing (Customer Relations, Sales, Responsiveness)
Finances (Assets, Facilities, Equipment)